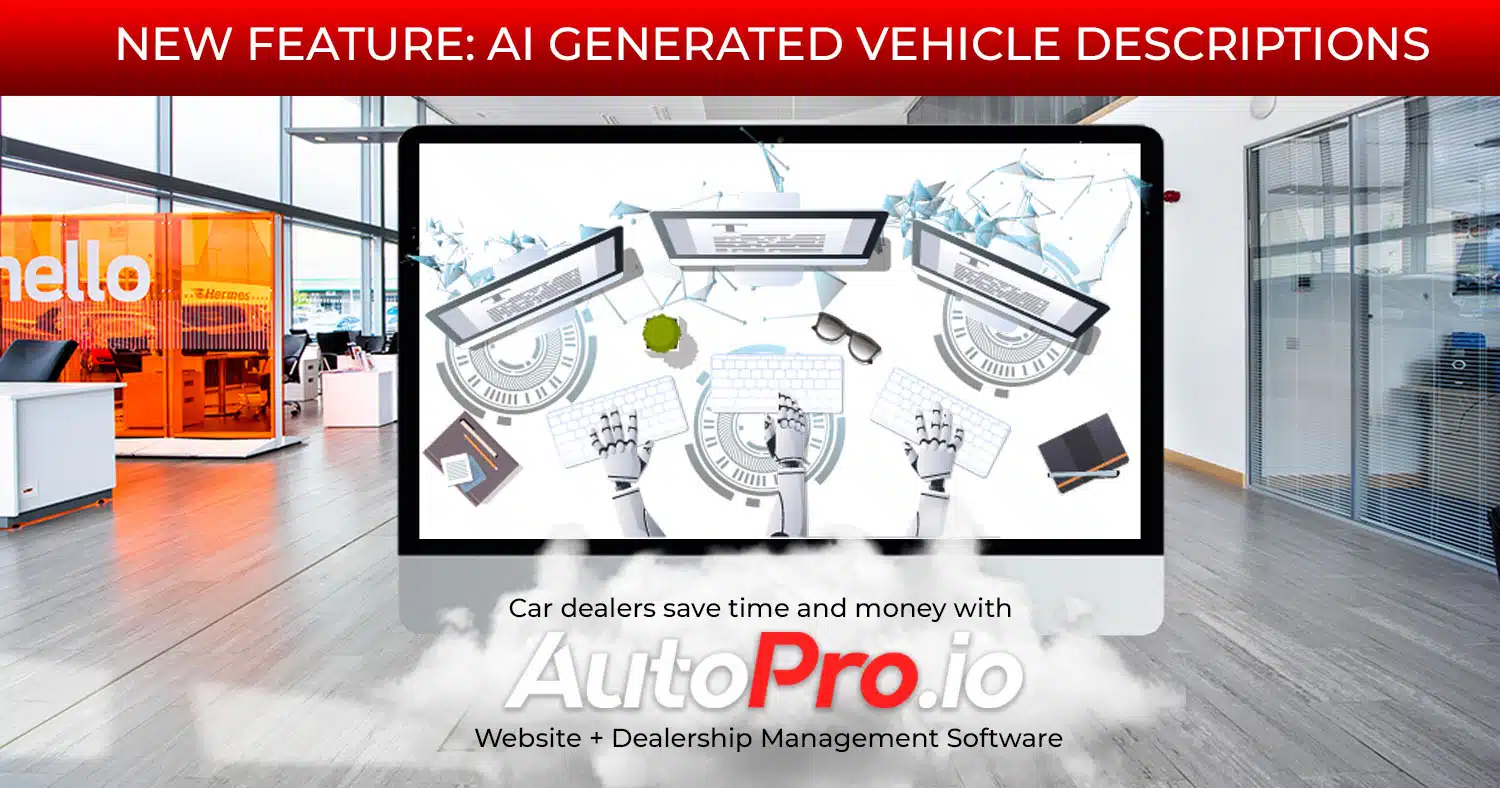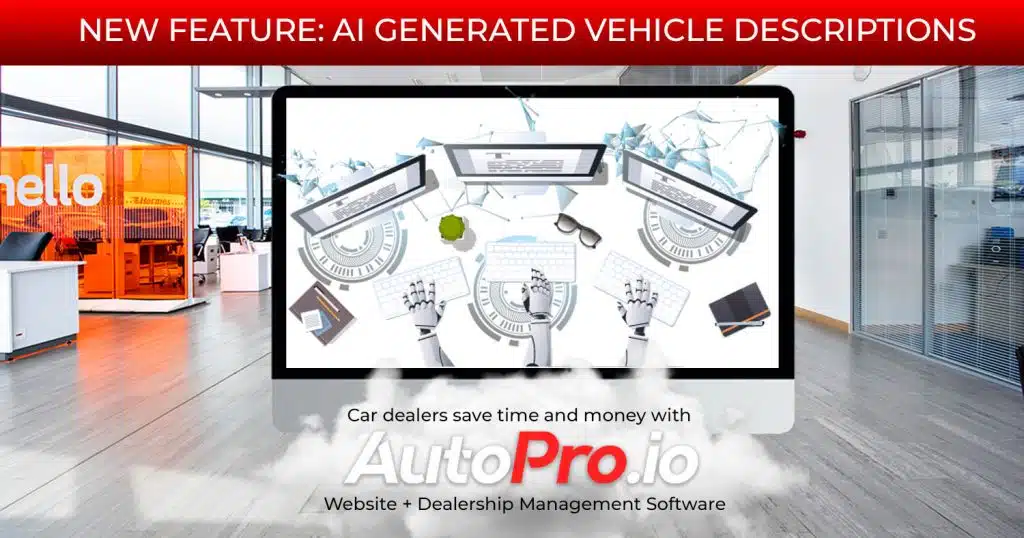 AI is taking over.
You've heard it all over the news and all over social media. Artificial intelligence is seeping its way into almost every industry, slowly but surely.
Although we don't think it is coming for your job any time soon, why not take advantage of advancements in artificial intelligence, and use it to make your life easier.
With our latest software update, we have now started to add the power of artificial intelligence, directly into the software you already know and love.
Here is what we did:
Writing vehicle descriptions can be tedious, and they often quickly become repetitive, since it is such uninspired work.
What if you could generate a witty, detailed vehicle description with just a single click?
We are excited to announce the launch of a new feature that will make the lives of our car dealership clients much easier: automated vehicle description generation powered by ChatGPT.
We understand the pains that come with writing vehicle descriptions manually. We have written hundreds.
It can be a time-consuming and tedious process, particularly for car dealerships that have to deal with a large inventory.
Our new feature, however, eliminates this burden by instantly generating the first draft of vehicle descriptions with a single click of a button.
By simply entering the relevant details of a vehicle, such as make, model, year, and mileage, our software will produce a detailed and accurate description that is ready for use in less than a minute.
No more struggling to find the right words or spending countless hours crafting the perfect description.
With AutoPro.io's latest update, generating vehicle descriptions has never been easier.
One of the primary benefits of this new feature is the time and effort it saves for our clients.
With automated vehicle descriptions, car dealerships can focus on other important aspects of their business, such as sales and customer service.
Our new feature is powered by ChatGPT, a powerful language model that is trained to generate natural language text.
It ensures that the descriptions produced are not only accurate but also sound like they were written by a human.
This means that car dealerships can be confident in the quality of the descriptions generated by our software.
The best part? This new feature is completely free for all AutoPro.io clients.
All that is needed is an Open AI API key, which can be easily obtained by yourself, or we can get one for you!
We are committed to providing our clients with the best possible service, and this new feature is just one of the many ways that we are delivering on that promise.
We are excited to offer this new feature to our clients. We believe that it will be a game-changer for car dealerships, helping them to save time and improve the quality of their vehicle descriptions.
We look forward to continuing to innovate and providing the best possible service to our clients.
Not a client yet and eager to try out this cool new feature? Then book a free demo today with us!
To get an Open AI API key, you must sign up on the Open AI website here:
https://platform.openai.com/signup
After signing up, you will be able to generate a secret key.
Copy and paste this secret key as that is what is required to automatically generate vehicle descriptions within the AutoPro.io dealership management software.
Once you have created an Open AI API key, you need to log into your AutoPro software and in the left hand menu go to Settings -> Aduvio Settings.
Once on the Aduvio Settings view, click on the Integrations tab.
On the integrations tab, scroll down to the section labeled "Open AI / Chat GPT".
Finally, paste your API key in the field labeled "".
Once you save your settings, the AI generated vehicle descriptions feature will be automatically activated.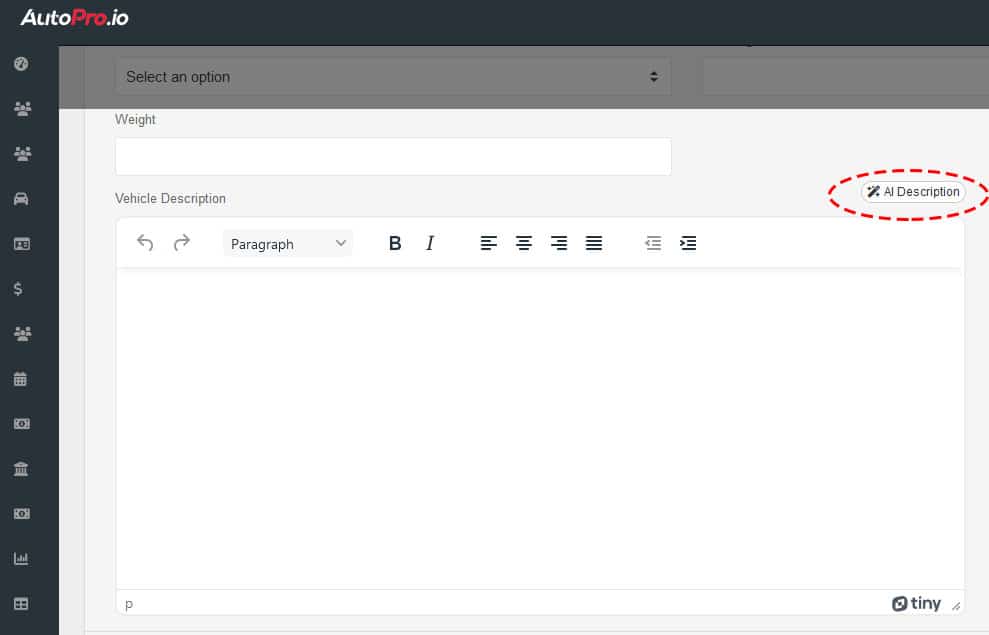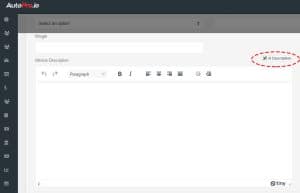 After completing the steps above, all you need to do is go on any vehicle in the inventory module, and click edit.
Once on the edit view, scroll down to the description field.
You should now see a button labeled AI Description.
Simply click on that button, wait 10-30 seconds, and like magic, a description for your exact vehicle will appear.