Our members keep dreaming up new ways of using the AutoPro.io software.
And we are here to make it happen!
As we continue to grow, the needs of our members become more and more diverse.
While many of the unique client needs come from regional differences such as time zones, currencies, terminology and taxes, more and more these needs are coming from different ways of doing business.
More and more of our members now have other sources of income for their dealerships such as mechanics/vehicle repair, a body shop or they even selling products or branded merchandise.
Before today, AutoPro.io only allowed you to create sales through selling a vehicle. Of course you could add fees, and extras to a sale, but you needed to be selling a vehicle to generate a sales contract, track and collect payments etc.
Say you wanted to sell the customer a stand-alone product or service, it was not possible for dealerships using the AutoPro.io software.
Until today!
With our newly available billing / invoicing add-on you now have the power to create and send invoices, collect and track payments for virtually any product or service you desire, from directly within the software you already know and love!
All of your customers, in one place!
One single login to manage
One platform to learn
More accurate business-wide reporting and tracking
Why would you need an invoicing module?
Although you could already add extras to vehicle sales contracts, selling products and services without selling a vehicle was not yet possible in the AutoPro.io software.
Until today!
More and more car dealerships are expanding and diversifying their income streams.
Whether that's selling products or services, many of our clients are making sales apart from their vehicle sales.
With the latest update to the AutoPro.io dealership management software, creating invoices for products and services couldn't be easier!
How does the invoicing module work?
By default, the new billing module is enabled for all AutoPro.io members.
Once logged in, click on the Billing tab in the main menu.
Next, click on the  green "+ New Invoice" button.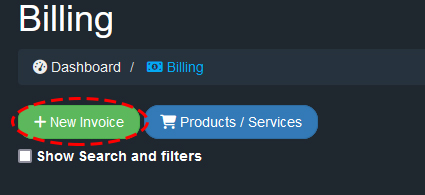 From the create invoice view, select a customer to link the invoice to. All of the other fields including the salesperson, invoice date, billing company, invoice number and due date should be pre-populated with a default value, but of course can be changed if required.
When you are done, click the "Save Invoice Details" button.


After saving the basic details of the invoice, and the invoice has been created, you can now add items to your invoice.


You can choose to add one-time items to your invoice or choose from the available pre-configured products and services.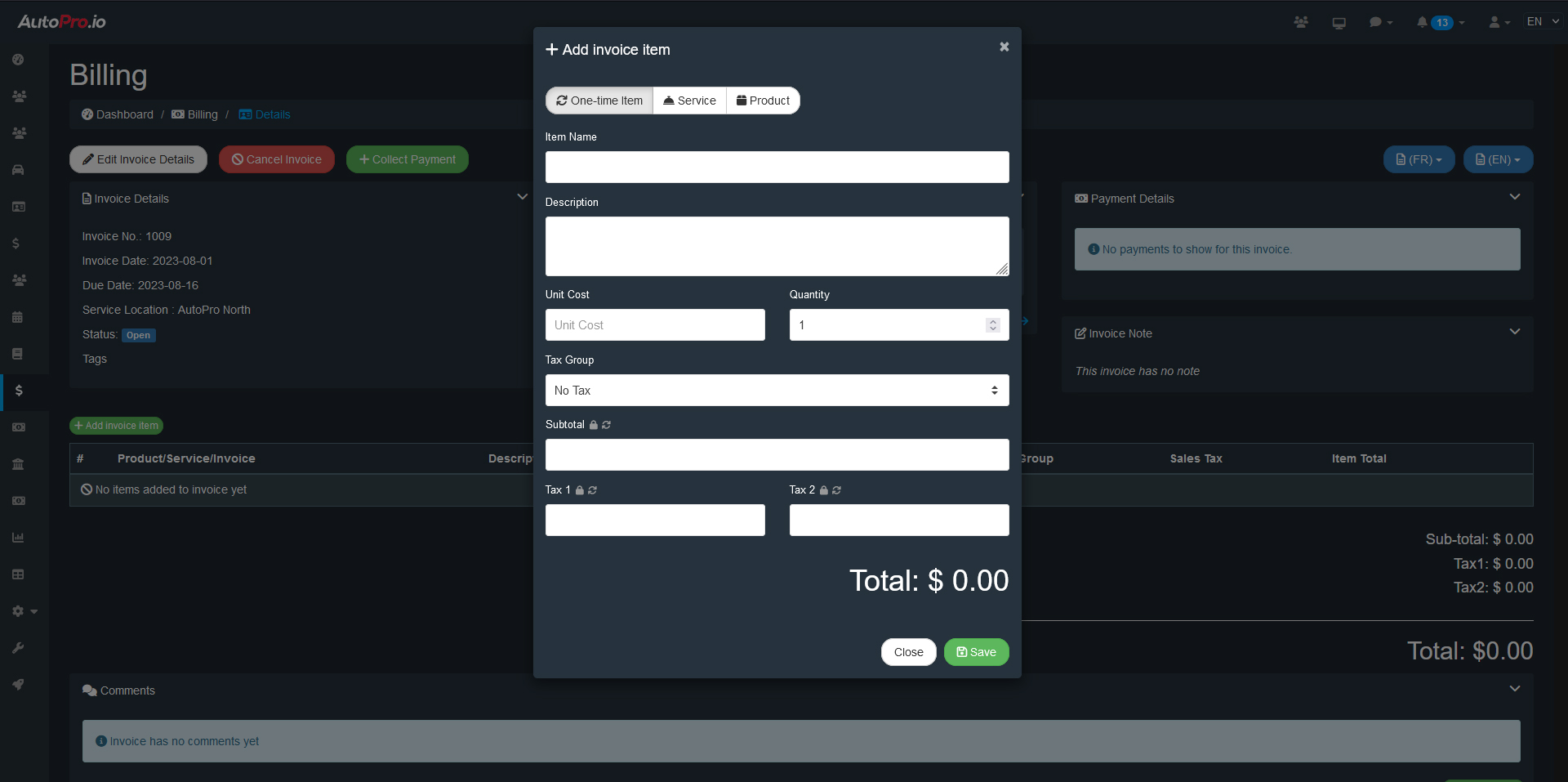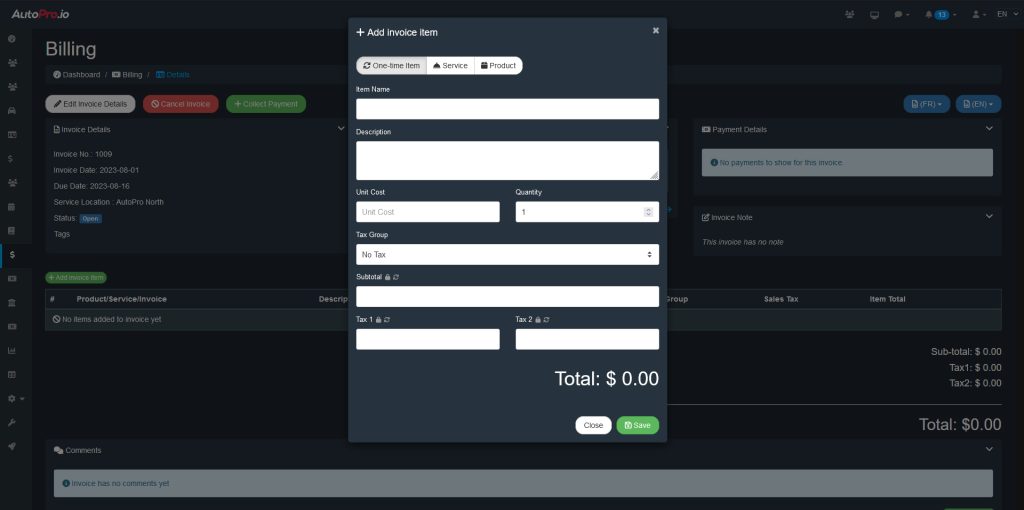 After adding all of the items to the invoice, you can either generate a PDF or send the invoice to clients by e-mail.
Frequently Asked Questions
Yes! The billing module allows you to add multiple taxes and tax profiles and you can set the default tax profile on individual products and services.
Yes! You can change the company name, logo and info on the invoice for individual billings.
Yes! Easily collect, track and view outstanding payments for each individual invoice!