Your website is a tool to help you sell. Period.
Using the right tool for the job is crucial in order to get the best results.
Sure you can pound a nail in with a rock, but you'll get it in there faster and most likely straighter by using a hammer.
Our websites are no different.
While your competitors use mass-market commercial website builders such as WordPress or Wix, your website powered by AutoPro.io will make theirs look like a relic.
Here's are 5 ways your AutoPro.io website is tailor made for car dealers just like you:
Ease of use
Features specific for car dealers
SEO optimized content
Speed
Constant improvement
Ease of use
When we designed our website solution for car dealers, we kept the customer top of mind.
People have short attention spans, and you can easily half that online.
People are so used to instant gratification, that as soon as the desired information is hard to find, they simply move on to one of your competitors.
From the search function to our powerful filters, we make it easy for your customers to find exactly what they are looking for.
Additionally, we make contacting you or applying for financing a breeze, with all of this information instantly synced with your DMS software.
Car dealership specific features
Using the right tool for the job is key to getting the best results.
You wouldn't use a hammer to tighten a screw, and you shouldn't use a mass market website builder for your car dealership either.
Our websites were built with features designed specifically for car dealerships.
Offer your clients powerful search functions, inventory filters, built-in financing application, related vehicle algorithms, contact forms and more.
All of these features and more were designed in order to remove friction from the client process and increase sales, while decreasing the time you spend on these tasks,
Who likes to wait? Certainly not your customers.
Our websites are blazing fast.
We have designed our websites with speed in mind.
Our websites score above average in common tests such as Google Page Speed and GTMetrix.
A fast website increases user satisfaction, as well as improving ranking on search engines such as Google.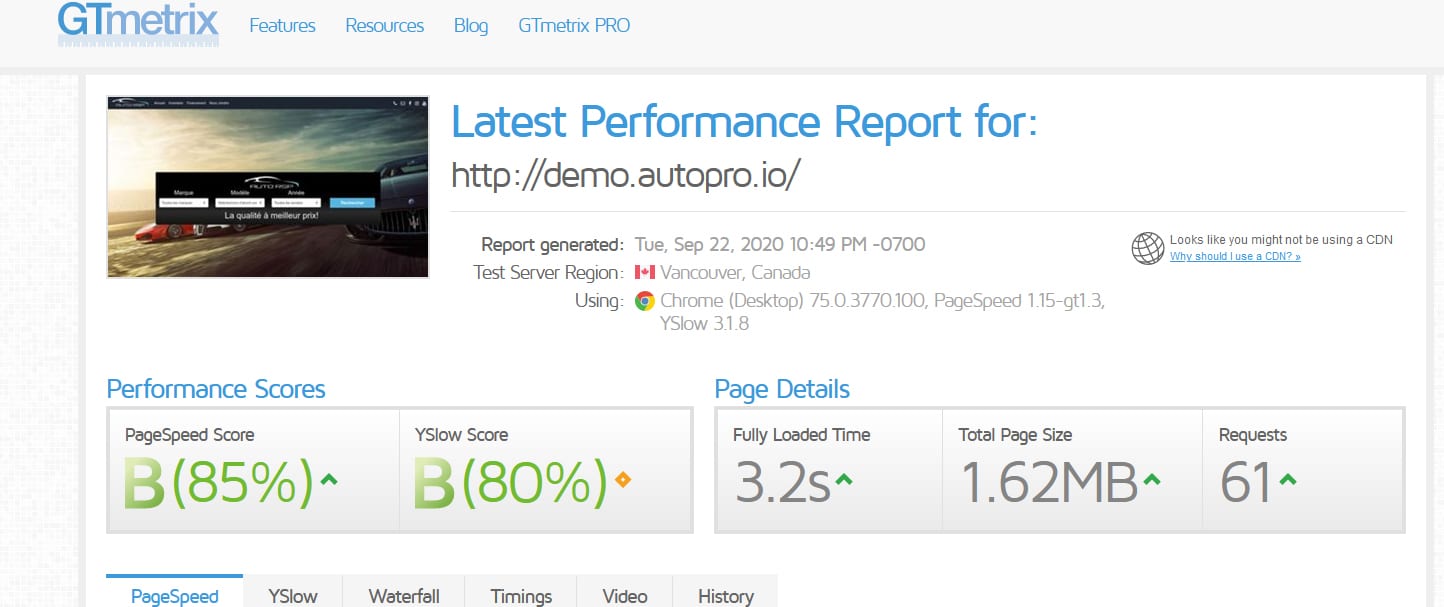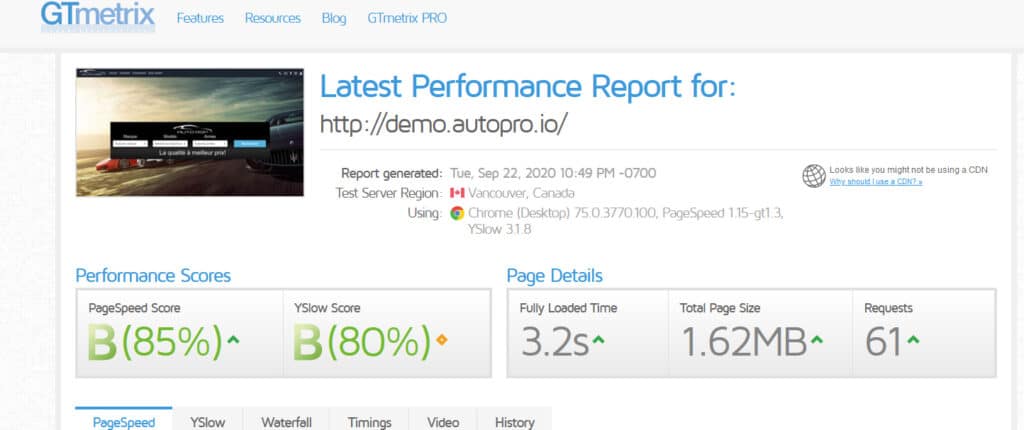 Driving traffic to your website is key
Our websites are built so your site and inventory show up optimally in search engines.
In addition to the page structure and meta tags we also implement semantic markup (schema) for your inventory, to help google better understand your website.
Our software also generates crucial files such as your sitemap.xml and robots.txt files.
Lifetime updates means your website keeps getting better
As a member of the AutoPro family, you get lifetime upgrades and updates.
As we keep expanding the possibilities of our software, you will benefit from lifetime updates of your website and software.
Instead of paying a web developer to build you features, updates and improvements, benefit from constant improvement, without it costing you a single extra cent.